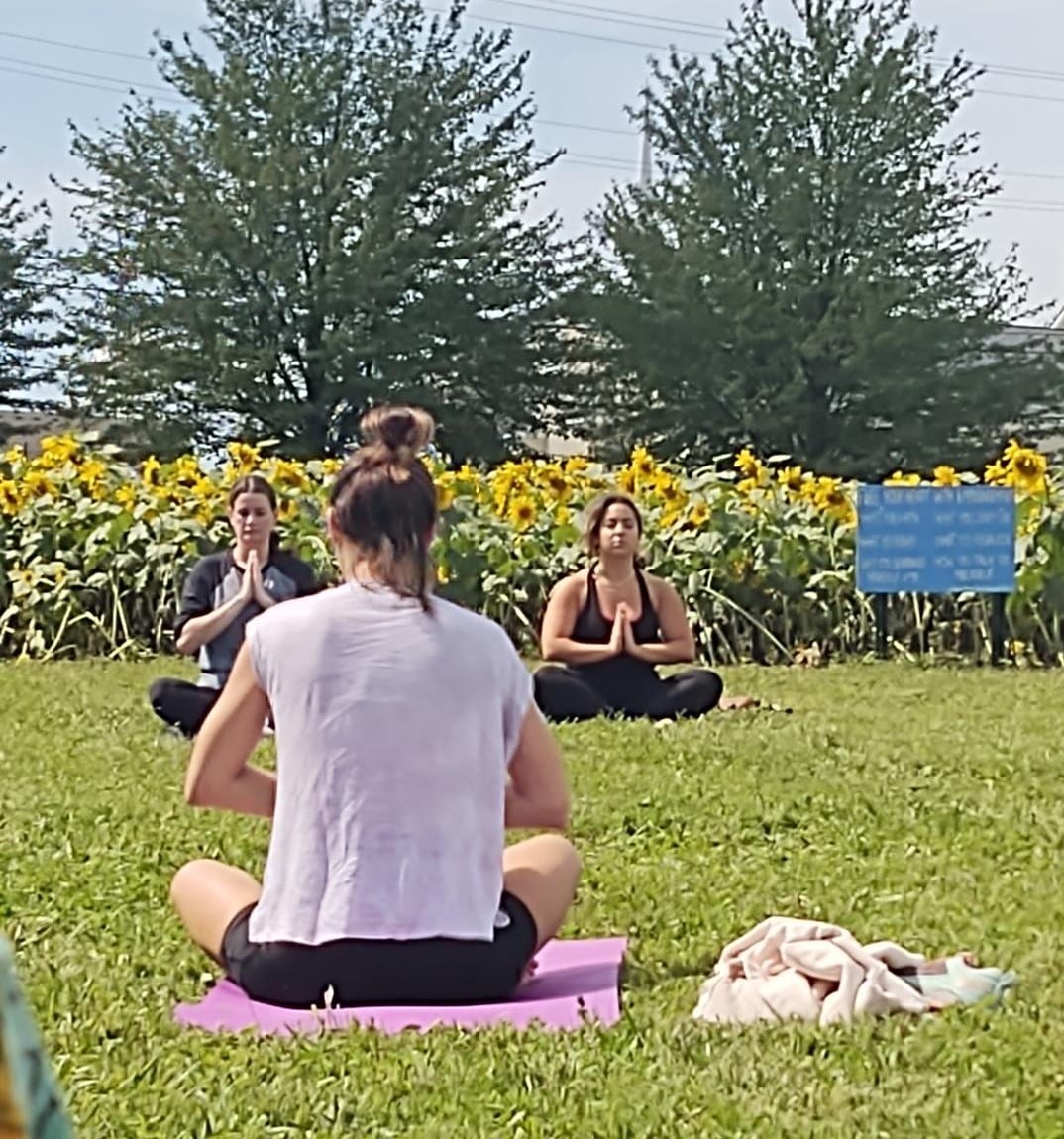 SUNFLOWER YOGA
Morning Classes – Saturday, August 19, at 9:00 and 10:30 a.m.
Sunset in the Sunflowers – Thursday, August 17, 7:00 p.m.
There is nothing quite like practicing yoga under the open sky as you feel the earth beneath your feet and inhale the fresh air and scent of flowers.
We're so excited to announce that the Gunther Sunflower Field next to our studio is back, and the sunflowers will be shining their happy faces once again! We offered yoga classes in the sunflower field for the first time two years ago, and the response was fantastic.
Now is your chance to experience the benefits of yoga while basking in the beauty of these happy giants. 
Feel grounded, uplifted, and connected to yourself and the earth as you're guided by one of our experienced teachers in the presence of the flowers. Leave rejuvenated, restored, and supremely relaxed. 
 Class Times: * 
Thursday, August 17, 7:00 p.m. w/Alyssa (Sunset Class!)
Saturday, August 19, 9:00 a.m. w/Amanda
Saturday, August 19, 10:30 a.m. w/Jess
Our Sunset Yoga Classes are suitable for ALL levels.
$30 donation benefits the Believe and Achieve Foundation


Best of all, proceeds will benefit Believe and Achieve, which provides basic needs and empowering programs for local children and families. Most recently, Believe and Achieve are running the "B&A Boost" program, a partnership with area school districts and community youth organizations to enhance their summer programming and provide scholarship opportunities, experiential learning, enrichment activities, field trips, and nutritional support.
The Gunther Sunflower Field is located just next to our studio, at 160 Park Rd.
Celebrate summer and join us for this one-of-a-kind experience in the sunshine!
*RAIN DATES for these classes will be Thursday, August 24 and Saturday, August 26. If your class is rescheduled due to rain and you are unable to make the rain date, you will be refunded your payment, or you may choose to have us donate your payment to Believe and Achieve.
*Please bring your own yoga mat. We have mats available for purchase in our studio.